Ofsted and Performance Data
We are very proud of our school, staff, pupils and their achievements. Below you can read statistical information and official reports relating to our school.
Please click on the link below to access the Ofsted Website.
Ofsted

Ofsted is the Office for Standards in Education, Children's Services and Skills. They inspect and regulate services which care for children and young people, and those providing education and skills for learners of all ages. We were inspected on 4th June 2019 and were given a 'GOOD' rating.                               
Click here for the report 
Click here for cover letter to parents
School Performance Tables
The Department for Education publishes a wide range of data about our school. Information on test data, children's progress, our intake and a range of other figures.
Compare School Performance Data
Statutory Assessment Data 2022 - 2023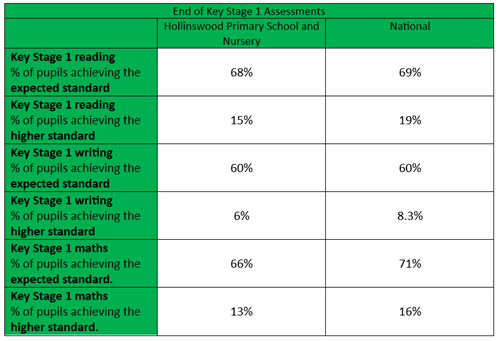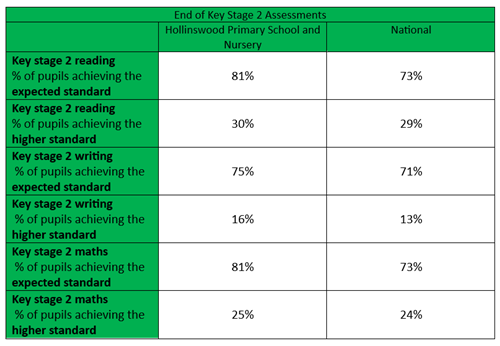 School Assessment Data 2022 - 2023 Click here for overview
School Assessment Data 2018-2019  (These performance measures are not current) Click here for overview
School Assessment Data 2017-2018  Click here for overview
Parent View
Parent View gives you the chance to tell Ofsted what you think about Hollinswood Primary School and Nursery.
It asks for your opinion on 12 aspects of your child's school, from the quality of teaching, to dealing with bullying and poor behaviour. The information you provide is used when Ofsted decide when to inspect a school.
Parents can see what other parents have said about Hollinswood Primary School or view the results for any school in England.
Please click on the link below to access the Parent View Website.
Parent View Results
You can submit your own feedback to the Parent View system by following the link below, singing up and answering the questions.
Schools Financial Benchmarking 
https://schools-financial-benchmarking.service.gov.uk/
The above link should take you straight to our page on the Schools Financial Benchmarking site. If you need to search for us, simply type in Hollinswood Primary School or the schools URN (Unique Reference Number) which is 123456.
You can view our school financial data, see how it compares with others and use the information to establish relationships with other schools or multi-academy trusts.