Forest School
At Forest School children will have the opportunity to explore and respond to nature; to play in a natural setting with less restrictions on their creativity and risk taking; to complete physical and mental challenges; to extend their Geography, History, D&T and Science work through real contexts and take part in exciting activities including foraging, cooking, firelighting, bug hunting and den building which build upon and complement their learning in school.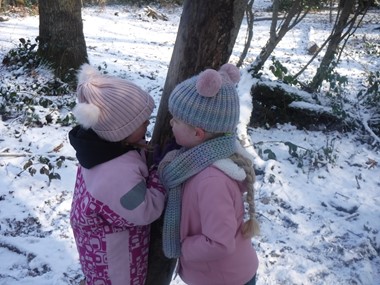 Children at Hollinswood Primary School have opportunities to do Forest School in every year group.  We are lucky enough to have the Pit Mound, an extensive wooded area, as part of our school grounds where the children go for the majority of their Forest School sessions.  
Learning doesn't begin and end at the classroom door.  As well as teaching the national curriculum subjects, we believe that it is important to offer our pupils further experiences that will contribute to their development.
'The national curriculum is just one element in the education of every child.  There is time and space in the school day and in each week, term and year to range beyond the national curriculum specifications.  The national curriculum provides an outline of core knowledge around which teachers can develop exciting and stimulating lessons to promote the development of pupils' knowledge, understanding and skills as part of the wider school curriculum.'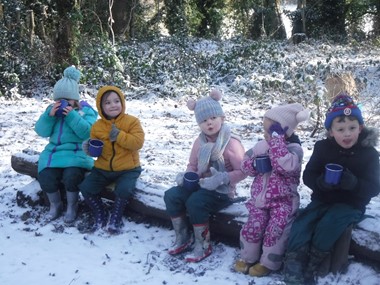 Learning outdoors at Forest School enables children to gain independence; the tasks they do encourage team work, social skills and the development of self-confidence and the greater adult to pupil ratio means that there are many more opportunities for children to talk to adults and to each other, improving the important communication and language skills.
Today's children spend less time outdoors than their parents and grandparents did.  They are missing out on physical activity, learning about the natural world, and the opportunities to make decisions and take risks.  Forest School can offer children these experiences in a safe environment; adults introduce activities and support, but also allow children to plan their own activities and then observe them from a distance.
All of the skills that children improve and gain at Forest School can and do impact upon their learning back in the classroom.  Click here for how Forest School lessons meet our values of respect, resourcefulness, resilience and responsibility. Additionally, we hope that as a result of being outdoors, children will in turn encourage their own families to spend more time outside, enjoying and finding out more about the natural world.
If your child is going to be doing Forest School you will receive a letter which lets you know which clothing they need to bring.
| | | |
| --- | --- | --- |
| | | |
Here is a video from a few years ago, for a bit of fun!