Assessment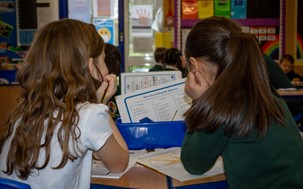 Since the revised National Curriculum became statutory in September 2014, schools are no longer required to use National Curriculum levels and may chose a method of pupil assessment which suits their setting and demographic. Levels were removed from widespread use as teaching became a vehicle for getting children 'across the next threshold' as opposed to ensuring their knowledge and understanding were sufficiently deep enough.
Assessment in the core subjects
At Hollinswood Primary School, in Key Stage 1 and Key Stage 2 assessment grids for Reading, Writing and Maths are used by the class teacher to determine whether a pupil is beginning to, working towards, working at the expected standard or working at greater depth.  Through day to day assessments, assessment grids at the front of books are highlighted when a class teacher is confident that a pupil is able to demonstrate that they meet the criteria.  A 'Best Fit' approach is then used to decide where a pupil is working.   However, a pupil must meet all of the 'expected standard' criteria in order to be working at this standard.
Assessments are recorded half-termly and analysed by the team leaders termly.  Intervention is in place for pupils who are not on track to achieve the expected standard.
For further information please see the Assessment policy
Assessment in the foundation subjects
At Hollinswood we assess the children's knowledge and skills through a combination of ongoing formative assessments made by the class teacher. This is then fed into a summative assessment which is carried out as a year group team at the end of a unit of work. When carrying out this assessment the staff will moderate work and pupils knowledge through a range of methods, including book looks and pupil interviews. These summative assessments are then collated by the subject leader so they can write an annual report for their subject. At each stage of assessment staff will identify pupils who exceed in the subject or have gaps in their learning and provision will be put in place to challenge and support them. In the annual report, subject leaders will be able to identify strengths and weaknesses in their subject and take action to address these findings.