Key Stage Two
At Hollinswood Primary School and Nursery, we try to link as many of our Foundation subjects within a theme. This gives pupils more opportunity to explore areas of interest and to embed learning further. Some subjects, such as History, Geography, Design and Technology, Art and Computing are planned jointly for Year Three and Year Four, and Year Five and Six, these are on a two-year cycle. Other subjects, such as PSHE, Science and RE are on a one-year cycle and are planned within the year groups to ensure the coverage of age specific skills.
In Maths we teach a mastery based approach following the White Rose scheme Primary Resources | White Rose Maths. Each area of Maths is taught in a block to ensure that skills within that area are embedded.
In Literacy, we follow the Michael Tidd principles. Writing is taught according to genre, with a different block being taught each term so that children build upon and develop their writing skills within that genre.  See more about our literacy curriculum here.
When planning for each subject, careful consideration is given to the key skills required as well as the subject knowledge. Lessons are not differentiated by age but by the skills that are appropriate for each child in that subject. For some pupils, further consideration is given to a flexible timetable to suit needs, such as adding in 'brain breaks', adult support and quieter work areas.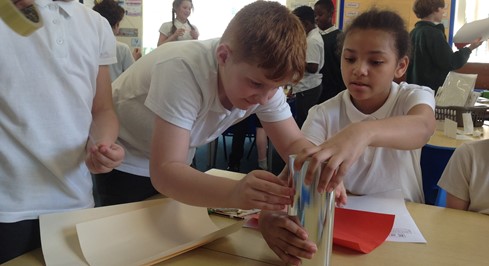 We encourage children to develop the following skills.
· Independence
· Resilience
· Collaborative Learning
· To ask and answer questions
· Share and listen to new ideas